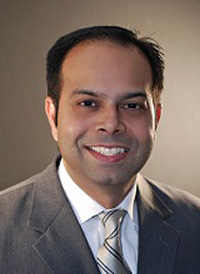 A native of New York City, Dr. Khan is a board-certified ophthalmologist. He graduated from Martin Van Buren High School and went on to State University of New York (SUNY) at Stony Brook for his undergraduate studies. He received his medical degree from New York College of Osteopathic Medicine and completed his ophthalmology residency at Nassau University Medical Center/SUNY at Stony Brook, New York.
During his senior year of residency, Dr. Khan served as the chief resident. Dr. Khan has completed a two-year vitreo-retinal surgical fellowship under the guidance of Dr. Gholam Peyman at Tulane University Medical Center in New Orleans, Louisiana. During his fellowship he was co-author of several scientific articles. Recently he published a chapter on Diabetic Retinopathy. The primary focus of his practice is diseases and surgery of the retina, vitreous and macula with an emphasis on diabetic eye disease, macular degeneration and inflammatory disorders.
Dr. Khan is a member of the American Society of Retina Specialists, the American Academy of Ophthalmology and the New York State Ophthalmological Society as well as a Fellow of the American College of Surgeons.
Retina Consultations of Western NY
Dr. Khan is credentialed to operate at the following locations:
Sisters of Charity St. Joseph Campus
Buffalo Ambulatory Surgery Center