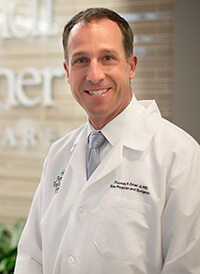 Dr. Elmer was born and raised right here in Western New York and is a graduate of Canisius High School. He received a double major in Biology and Psychology from the University of Notre Dame and earned his M.D. degree back home at the University at Buffalo School of Medicine. Following an internship at Ochsner Medical Foundation in New Orleans, he joined a prestigious residency program at Louisiana State University, where he was elected Chief Resident in Ophthalmology. He then returned to Western New York and completed a Pediatric Ophthalmic Fellowship at the University at Buffalo Department of Ophthalmology. After his fellowship he joined www.mercyships.org and went on an extended mission tour of Africa, performing a wide variety of complex eye surgeries.
He joined Drs. Fichte and Endl in 2004 and became a Partner of Fichte Endl & Elmer Eyecare in 2006. In an effort to grow the practice and the local community the doctors were able to secure a certificate of need and built a state of the art surgical facility in 2015. Dr. Elmer is currently President of that surgery center which is known as the Ambulatory Surgery Center of Niagara. Dr. Elmer has extensive experience and training in cataract and refractive procedures, as well as specialized pediatric care and adult strabismus. He is chief of Ophthalmology at St Mary's hospital and is volunteer faculty at the University of Buffalo Department of Ophthalmology. He has been the principal investigator in numerous research projects to advance the field of ophthalmology.
Dr. Elmer along with his partners where the first in the country to offer the use of the Victus laser to perform laser-assisted cataract surgery and has the honor of being a key opinion leader involved in teaching other ophthalmologists here at our center and at national meetings. Most importantly Dr. Elmer loves his job. He says "I feel unbelievably blessed to be where I am and to use the skills that I have been given to help serve the people of Western New York, my home town. It is extremely rewarding to see the smiles on my patient's faces after taking care of them. It's those smiles that make all the hard work worth it. I can't thank my partners and my staff enough. That makes all of this possible."
Dr. Elmer is credentialed to operate at the following locations:
Ambulatory Surgery Center of Niagara
Eye Health Associates
Ambulatory Surgery Center of Western New York
Mount St. Mary's Hospital – Head of Ophthalmology
Niagara Falls Memorial Medical Center
Women & Children's Hospital of Buffalo
Kaleida Health
---
Watch a video from CNN to learn more about Dr. Elmer's mission.
A conversation with Dr. Elmer.